Door Intercom & Video Systems
Home & Away Surveillance specialises in the installation & maintenance of controlled entry and access systems for many types of secure areas.

These range from private dwellings to local authority owned apartment blocks, schools, public buildings, private driveways and car parks. The equipment ranges from simple domestic and office audio and video entry kits to complex hybrid multi-apartment, multi block systems incorporating both door entry and access systems:

Door Entry - entry controlled by a porter, concierge, occupant of apartment or office.
Access - automatic access by means of card, code or proximity token.

Featured Below is a small selection of equipment used:

804T Kit Entrance Panel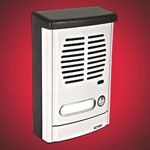 Single Button, Surface Mounted, Aluminium Entrance Panel for 894 Kit.

The 894T Entrance Panel is a single button, surface mounted, aluminium audio unit designed for the 894K two wire, audio door entry kit. It utilises speech unit, type 894E.

Features:
Simple Elegance
Easy Installation
Two Wire Connection
8100 Galileo Entrance Panel


Low profile, surface mounted Galileo Entrance Panels, type 8100.

Features:
Elegant styling
Low Profile, Surface Mounted
All models are the same size
Sable Grey or Brushed Aluminium
DDA Compliant Entrance Panels

Stainless Steel Entrance Panels to Comply with the DDA requirements.


Raytel Security Systems Limited are fully committedto assisting Local Authorities and similar organisations to meet the special needs of all people who wish to enter a public building by means of a door entry system.

Features:
Various sizes and shapes of surface and flush mounted functional and digital panels

Large LCD Display

Yellow halo around call buttons

¥ Raised numerals
Audio/Video Handset - Giotto 2002

Combined handset/monitor with 'Sound System' (electronic trill) call. 4" or 5" Screen.




Standard Colour White; also available in anthracite (code/21) and titanium (code/37).

Dimensions: Surface Model 204 x 220 x 90 mm (4" Screen).
Semi Flush Model 204 x 220 x 90 plus 50mm. for back box (5" Screen).

Features:
Elegant Design.

Combined Audio Handset and Video Monitor.

Choice of Screen Size (4" or 5").

Low Profile Surface Mounted Model - No cut-out in wall - backplate mounting only.

Semi Flush Mounted Model - Requires small cut-out in wall.

Monochrome or colour video picture.
Open Voice Audio/Video Monitor 7501E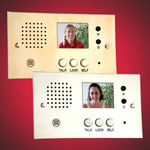 Front Plate Dimensions: 146 x 86mm
Back Box Dimensions: 135 x 75 x 45mm

Features:
Open Voice.

Miniature Dimensions.

Flush Mounting.

Robust Front Plate.

2.5" Colour Screen.